Page 4 of 4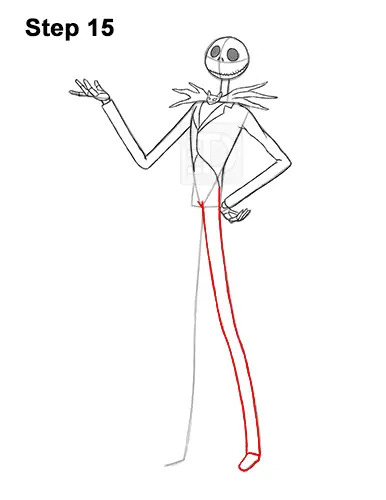 Step 15: Darken the long line under the torso on the right side for the first part of Jack Skellington's leg. Draw another long, sloping line on the left to complete the leg. Close off the shape at the bottom. Keep the lines close to each other so that the leg is thin. At the bottom, draw a curved line for the shoe.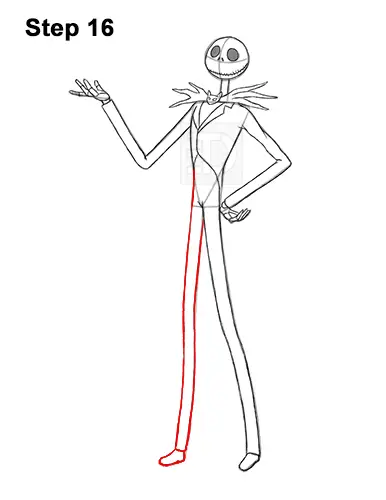 Step 16: Darken the long guide on the left to draw Jack Skellington's other leg the same way. Draw another long line close to the guide to complete the shape of the leg. Darken the side of the torso too. Keep the leg thin and close off the shape at the bottom. Draw a small, curved shape below the leg for the shoe.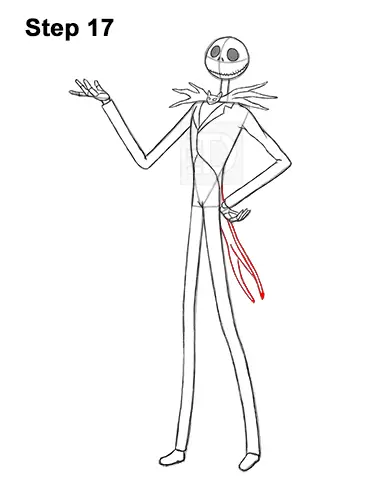 Step 17: On the right side of the legs, below the hand, draw the coattails as a series of curved, sloping lines. Jack Skellington's coattails are made up of two long, sloping lines for the sides and a shorter, angled line in the middle.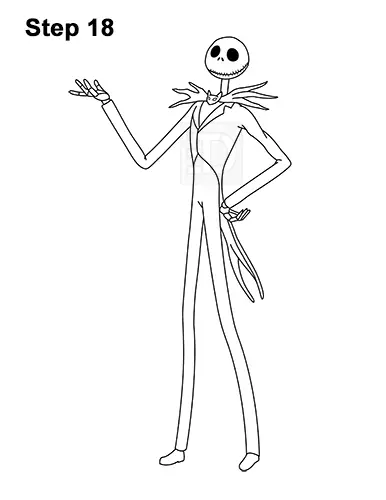 Step 18: Go over the final sketch lines with a pen, marker or any other type of permanent ink. Take your time and be careful when you ink your drawing to avoid any accidents. After the ink dries, get rid of every pencil mark with an eraser for a cleaner drawing of Jack Skellington from Tim Burton's Nightmare Before Christmas.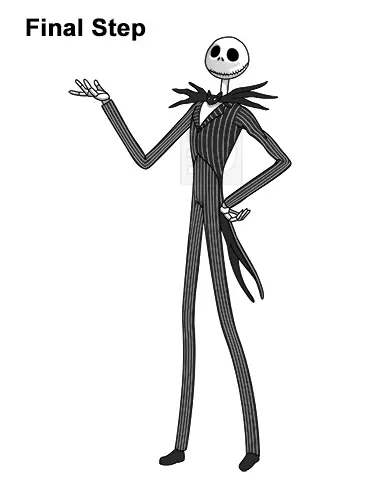 Final Step: Color your Jack Skellington drawing using colored pencils, markers or crayons! Use black for the stripes on the suit. Don't overlap the small eyes on the bat-like head as you color the bow tie. Make the black stripes wide so that it in turn creates thin white stripes. Use black for the coattails and shoes. Adding the stripes can be time-consuming, so be patient and take breaks. Add a little bit of gray on this Halloween Town resident's head and hands to create some shadows and give the figure more dimension. Don't forget to pause the video after each step to draw the Pumpkin King at your own pace.
Thanks for visiting! Subscribe to the EasyDrawingTutorials YouTube Channel for a new tutorial every Sunday.

To learn how to draw animals, visit How2DrawAnimals.com.

To learn how to draw Manga, visit How2DrawManga.com.
RELATED TUTORIALS