Page 3 of 4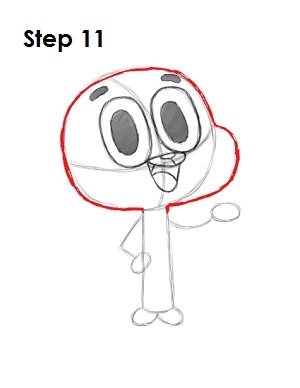 Step 11: Use the original circle as a guide to draw Gumball's head. Draw an arc that comes out of the lower right side of the head for his cheek. Notice that the cheek starts where the horizontal construction line ends. The cheek extends down to the bottom of the circle.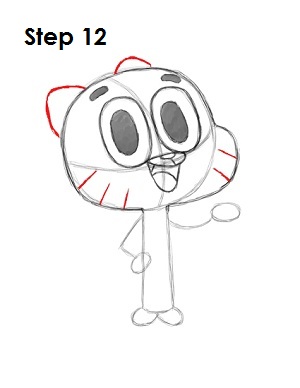 Step 12: On top of Gumball's head, draw two arcs similar to triangles for his ears. Draw three lines on the left side of his face and two lines on the right side of his face for his whiskers.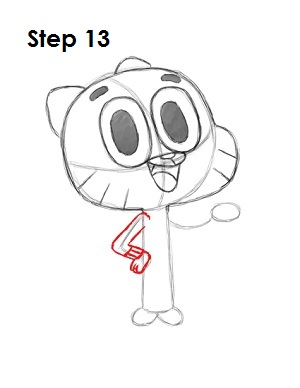 Step 13: Use the initial line and oval on the left side as a guide to draw Gumball's arm. Make the line thicker to create the girth of the arm. Draw a few lines at the end of the arm for the cuff of his sleeve. Draw a few arcs in the oval to create Gumball's fingers.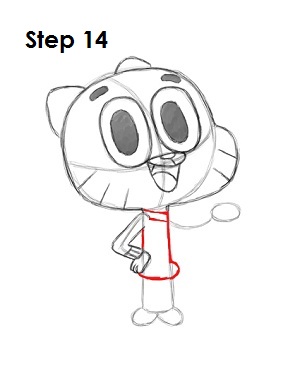 Step 14: Darken the middle part of Gumball's body to create his torso. Draw a couple of diagonal lines at the top for his collar. Draw a wide round arc at the bottom for his belly.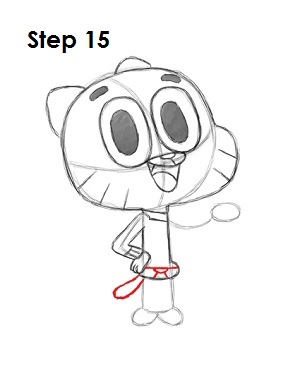 Step 15: Inside his belly, draw a horizontal line to indicate the top of his pants. Draw a half oval below the pants for his button and a couple of lines below the button for the creases on his pants. On the lower left side of the torso, draw a long, thin arc for his tail.