Page 7 of 7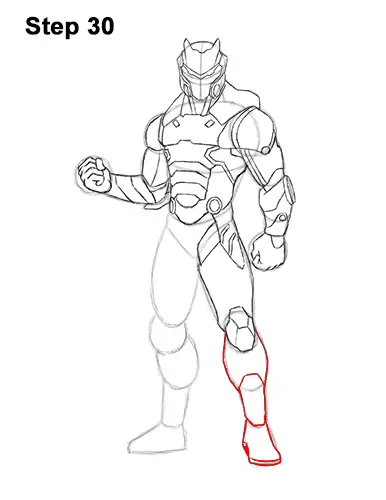 Step 30: Darken the guides under the knee pad to create the rest of Omega's leg and foot. Make the middle section angle up toward the knee pad a bit more, and then darken the shin portion of the guides. Darken the lowest shape to create the foot but draw an extra line at the bottom for the shoe's sole.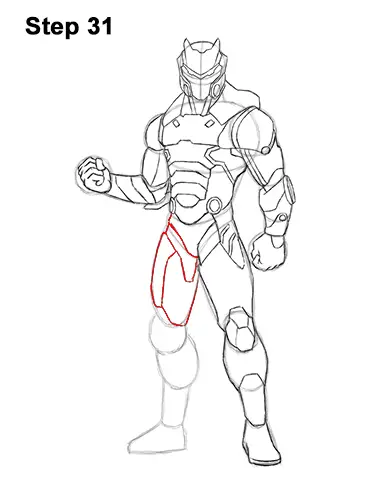 Step 31: Use the shapes on the left side as guides to first draw the top part of the leg. Draw a couple of angled lines inside the shape for the edges of the armor. Darken the sides of the guides to create the rest of Omega's leg's shape.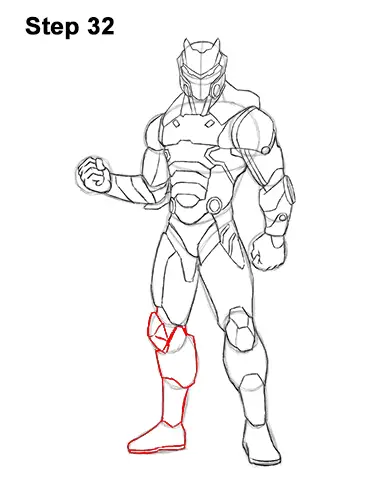 Step 32: Draw a small oval-like shape on the left side of the guides in the middle to create the other knee pad. Add a few angled lines inside the knee pad to emphasize the blocky shape. Darken the shape under the knee pad using angled lines to create more of the blocky armor. To create the rest of the leg and foot, simply darken the initial guides. Add an extra line to the bottom of the foot to create Omega's shoe sole.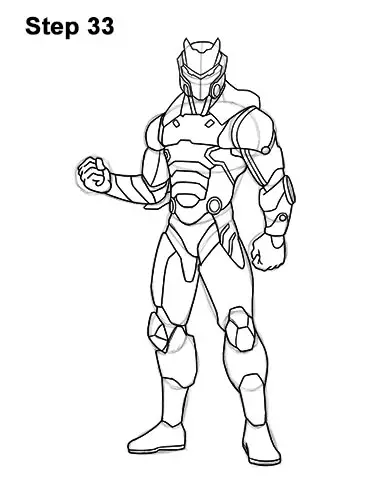 Step 33: For a more finished look, carefully go over the final sketch lines with a pen or marker.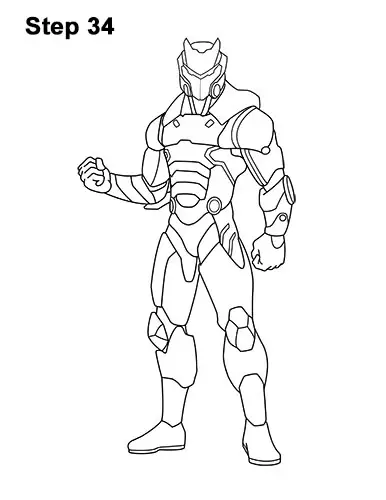 Step 34: After inking, get rid of every pencil mark with an eraser.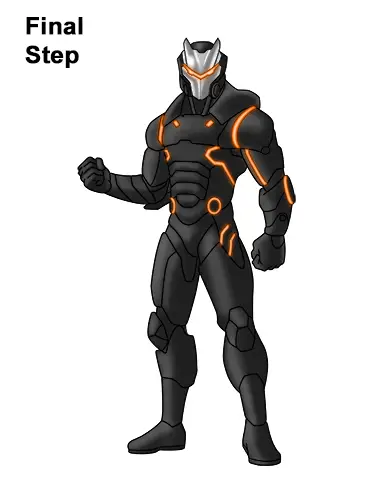 Final Step: Color your Omega drawing using color pencils, markers or crayons! Use yellow-orange for the glowing strips. Use gray for the face plate to simulate the shiny armor. Now use black for the rest of the body. Apply less pressure on your pencil to get a lighter shade of black on the left side of Omega's body. This gives the figure more volume.
Apply the color lightly at first and slowly build up to the level of darkness that you like. Continue applying the black until Omega's entire body is covered. Don't overlap the glowing strips. Don't forget to pause the video after each step to draw at your own pace.
Thanks for visiting! Subscribe to the EasyDrawingTutorials YouTube Channel for a new tutorial every week.

To learn how to draw animals, visit How2DrawAnimals.com.
RELATED TUTORIALS