Page 3 of 4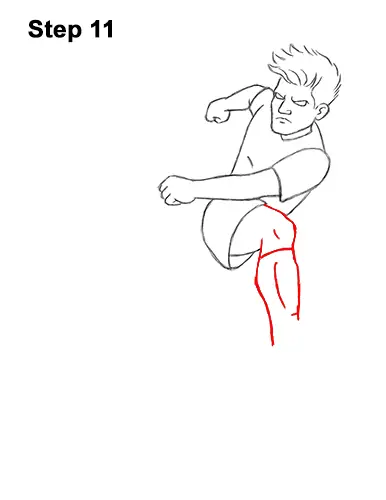 Step 11: Below the shirt sleeve, draw a line that curves down for the soccer player's knee. On the left side, draw a long, curved line for the calf section of the leg. Sketch lightly at first. On the right, draw another vertical line that has a small bump for the shin guard. When you get the shapes right, darken the lines. Draw a line below the athlete's knee for the sock. Below that, draw a vertical line to emphasize the shape of the shin guard.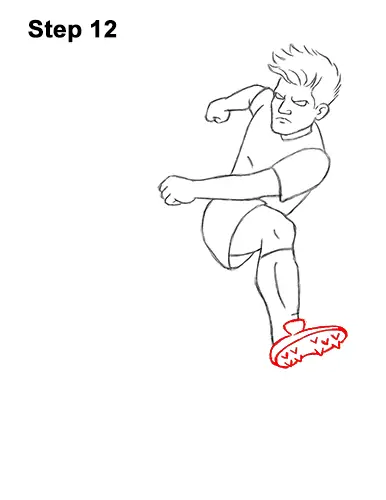 Step 12: At the bottom, draw a shape that's sort of like an irregular oval for the soccer player's foot. The bottom of the shape should curve for the foot's arch. The right side should be a bit pointy. At the top, draw a small, square-like shape for the tongue. Inside the shape, draw a curved line for the sole. On the bottom of the sole, draw a series of small, V-shaped lines for the studs on the soccer player's shoe. Draw four cleats on the left side and five on the right side.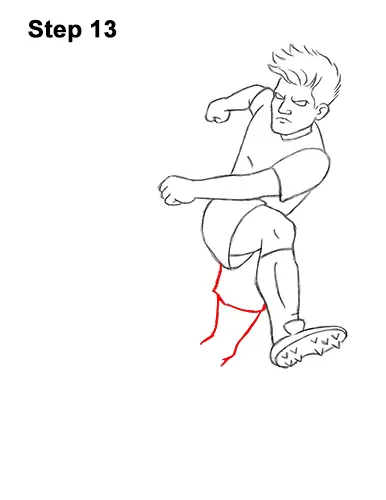 Step 13: Below the top part of the first leg, draw a big, L-shaped line for the other leg on the shorts. Under that, draw two long, wavy, vertical lines for the middle section of the soccer player's leg. These lines curve inward at the bottom to create the knee.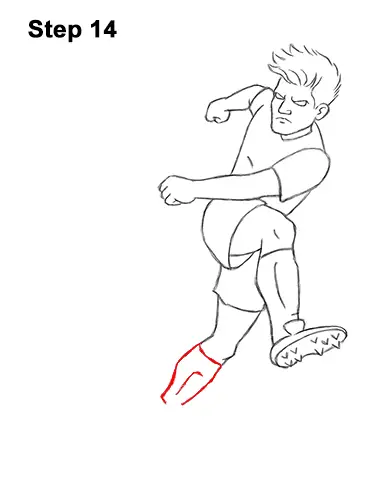 Step 14: Below the athlete's knee, draw a line for the top of the sock and two longer lines for the rest of the leg. The lines should curve inward a bit. Add a line inside for the soccer player's shin guard.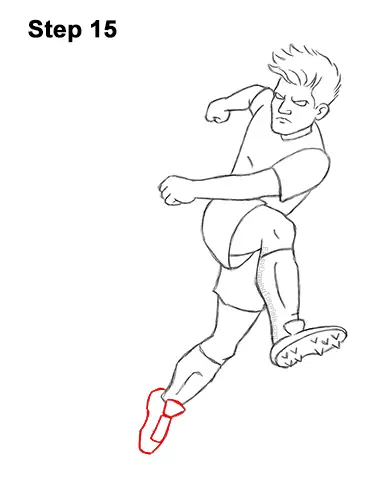 Step 15: At the bottom, draw an oval-like shape for the soccer player's shoe. Curve the left edge for the arch. The right edge should be flat. At the top, draw a square for the tongue. Below that, add a rectangle for the laces.