Page 3 of 3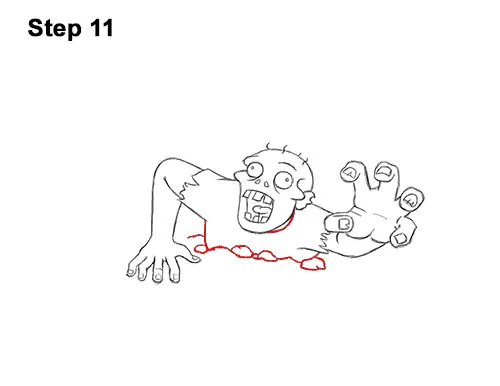 Step 11: Below the zombie's head, draw a series of jagged shapes and curved lines for the rocks and the hole. Make the shapes of the rocks different sizes. Add a line on each side for the zombie's torso halfway out of the hole. Draw a few curved lines around the torso to emphasize the dirt around the hole.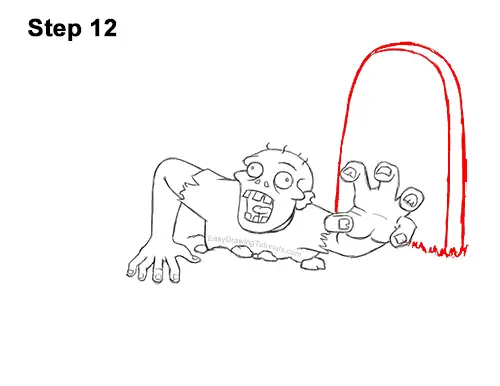 Step 12: To the right of the zombie, draw a big, tall arc for the zombie's tombstone. Sketch lightly at first. You can make the tombstone as tall as you want. When you get the shape right, darken the line. Draw a series of short strokes along the bottom for grass. Add an extra line on the left side to make the tombstone thicker.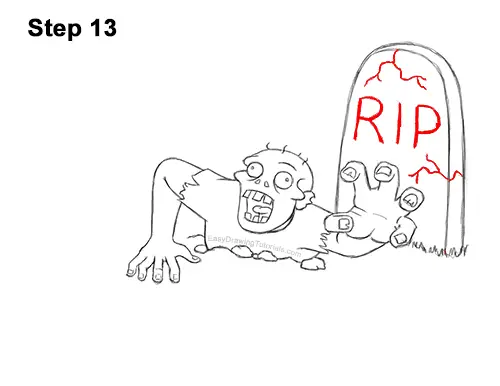 Step 13: Write the letters RIP across the tombstone. You can write anything else you'd like here. You can make the font thicker too. Don't overlap the shape of the hand or the edges of the tombstone. Add a few jagged lines inside the shape for the cracks on the zombie's tombstone.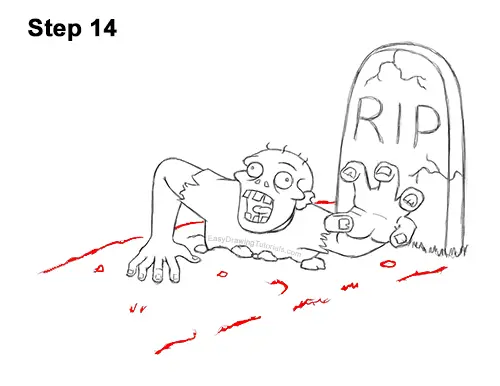 Step 14: Draw a broken line to the left of the zombie and below it for the grave's outline. Add a few more short strokes and curved lines for the grass and dirt around the grave.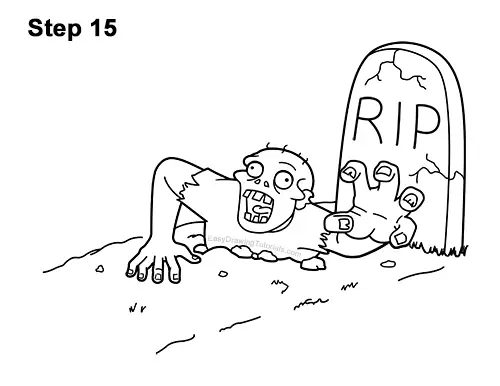 Step 15: Using a pen or marker, carefully draw over the lines to make your zombie drawing permanent. Take your time and be careful when you ink to avoid any accidents. After the ink dries, get rid of every pencil mark with an eraser.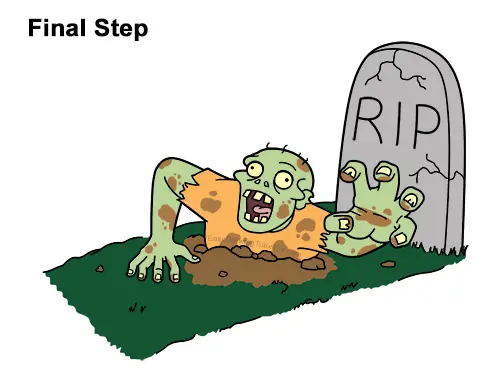 Final Step: Color your zombie drawing using colored pencils, markers or crayons! Color your zombie any way you'd like. For this look, use yellow for the eyes, teeth and nails, and use green for the skin. Use brown for some dirt on the skin and shirt. Color the shirt orange. Use gray for the tombstone. Don't overlap the zombie's hand as you color the tombstone. Color the dirt around the hole brown or dark brown. Color the grass green. You can also only use brown for a dirt grave. Color the inside of the mouth red and brown and the tongue pink. Don't forget to pause the video to draw your zombie at your own pace.
Thanks for visiting! Subscribe to the EasyDrawingTutorials YouTube Channel for a new tutorial every Sunday.

To learn how to draw animals, visit How2DrawAnimals.com.
RELATED TUTORIALS