Page 6 of 7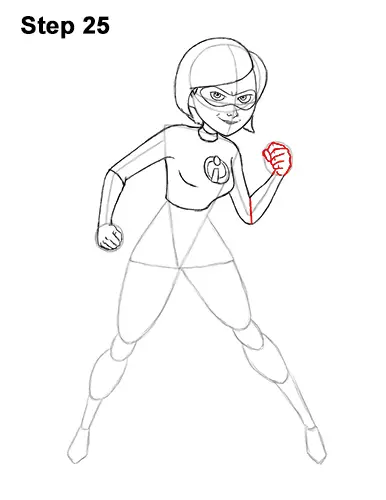 Step 25: Use the small circle at the top as a guide to draw the fist. Draw a small oval on the top, right side of the circle for the thumb. To the right of the thumb, draw a series of short lines for Elastigirl's folded fingers. The fingers are folded into a fist, so draw them as short, curved lines. Draw a wavy line along the right edge of the initial circle to create the knuckles.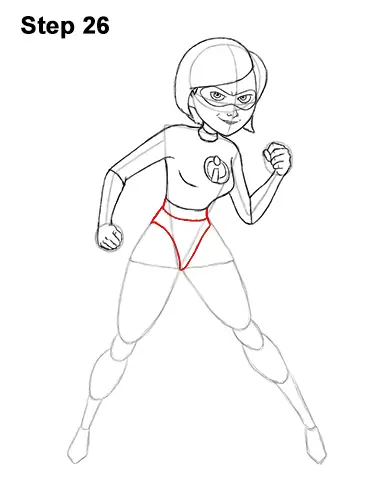 Step 26: Draw a curved line under the waist to create the belt. Below that, draw a couple of curved lines that come to a point at the bottom for the lower part of Elastigirl's torso. The bottom part of the super hero costume under the belt should be similar to a curved letter V.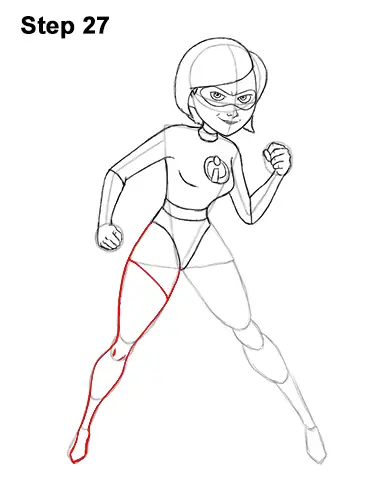 Step 27: Use the shapes on the left side as guides to draw the first leg. Simply darken the outer edges of the initial guides to create the shape of the leg. Make the top part of the leg and the calf wide. The knee and bottom part of the leg should be thin. The boot at the bottom should also be thin. Make the tip pointy. At the top, about halfway on the thigh, draw a sloping line for the top part of Elastigirl's boot.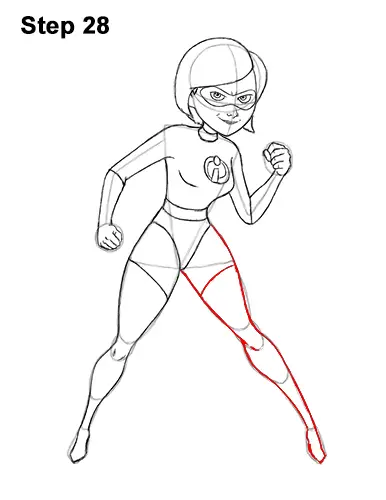 Step 28: Use the shapes on the right to draw the other leg the same way as the first. Darken the outer edge of the guides to create the shape of Elastigirl's leg. Make the top of the leg wide and the knee thin. The calf should be wide, and the bottom of the leg, including the foot, should be thin. Draw a couple of lines inside the knee and a sloping line at the top for the top of the boot.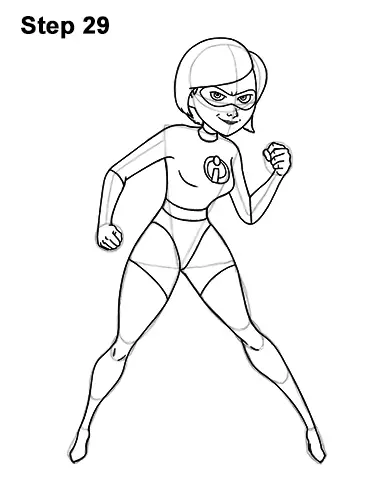 Step 29: For a more finished look, carefully go over the final sketch lines with a pen or marker.