Page 6 of 6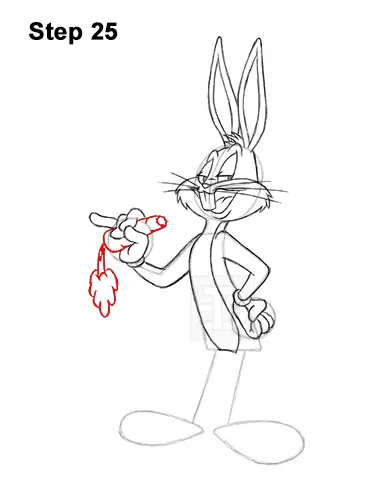 Step 25: Draw a cylindrical shape between the fingers on the left side for Bugs Bunny's carrot. On the right side of the thumb and fingers, draw the tip of the carrot and make it thinner. On the right, draw a few jagged lines for the bitten-off tip of the carrot. Add some lines to the shape for detail. On the left side, draw two lines that curve down for the carrot's stem. At the bottom, draw a series of curved lines to form the shape of the leafy part of the carrot.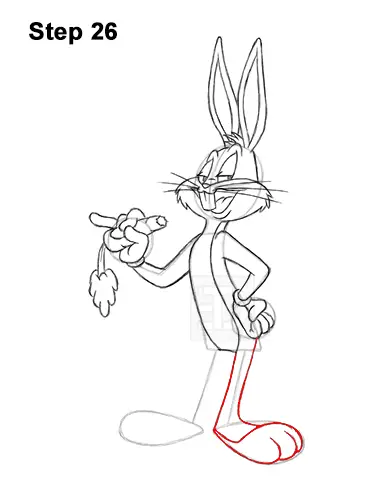 Step 26: Use the line on the lower, right side as a guide to draw the first leg. Draw the shape of the leg around the guide. Don't make Bugs Bunny's leg too thick. Use the oval-like shape on the bottom as a guide to draw the foot. Draw a curved line across the shape to separate the thin foot from the big toes. At the tip, draw two curved lines to separate the individual toes.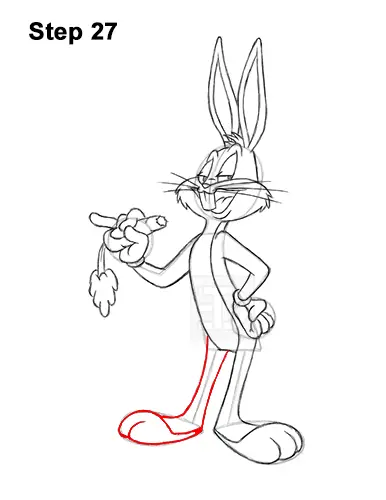 Step 27: Use the line and shape on the left as guides to draw Bugs Bunny's other leg and foot the same way. Draw the leg around the guide and keep the shape thin. At the bottom, darken the tip of the shape and add a curved line for the toes. Draw a curved line across the shape to separate the colors and make the foot thinner.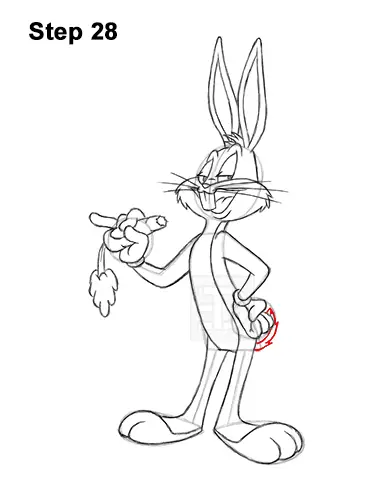 Step 28: To the right of the fist, draw a small, curved shape with jagged lines along the way for Bugs Bunny's fluffy tail.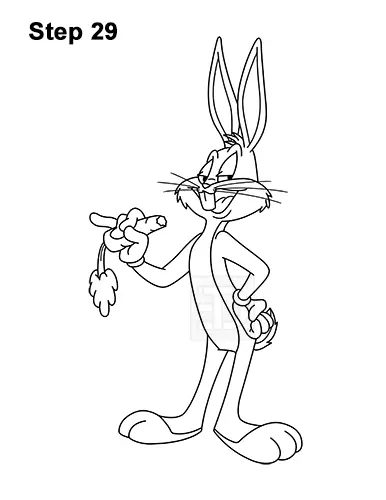 Step 29: Go over the final sketch lines with a pen, marker or any other type of permanent ink. Take your time and be careful when you ink to avoid any accidents. After the ink dries, get rid of every pencil mark with an eraser for a cleaner drawing.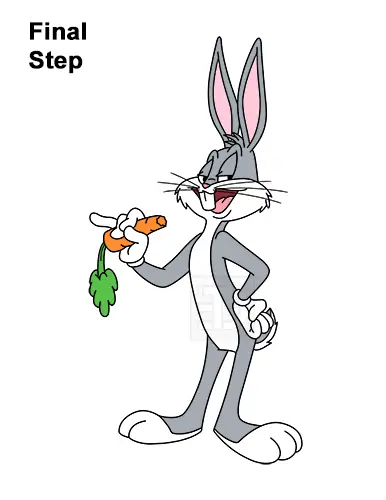 Final Step: Color your Bugs Bunny drawing using colored pencils, markers or crayons! Use gray for the main part of the body. Use pink for the inner ears, the tongue and the nose. Color the inside of the mouth brown. Use orange and green for the carrot. Don't forget to pause the video to draw Bugs Bunny at your own pace.
Thanks for visiting! Subscribe to the EasyDrawingTutorials YouTube Channel for a new tutorial every Sunday.

To learn how to draw animals, visit How2DrawAnimals.com.
RELATED TUTORIALS