Page 2 of 3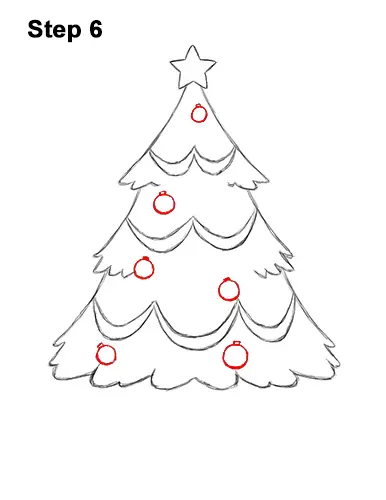 Step 6: Draw a series of small circles throughout the tree for the Christmas ornaments. On top of each ornament, draw a tiny square for the hangers. Leave enough space on your Christmas tree for the other decorations.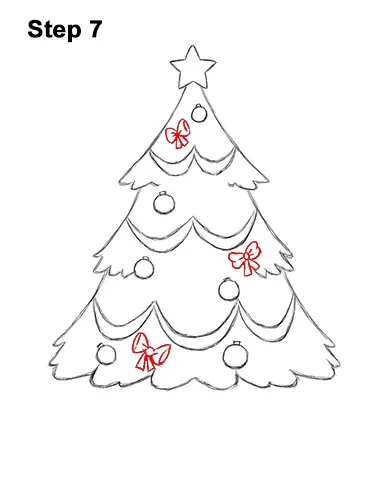 Step 7: Draw a few bows on the empty sections of the tree. The bows consist of triangle-like shapes for the sides and longer, rectangular shapes for the strips hanging down. You can also draw a small circle in the middle of your bows for the knot and make the sides rounder. For a simpler Christmas tree, you can skip the bows and just add more of the sphere ornaments.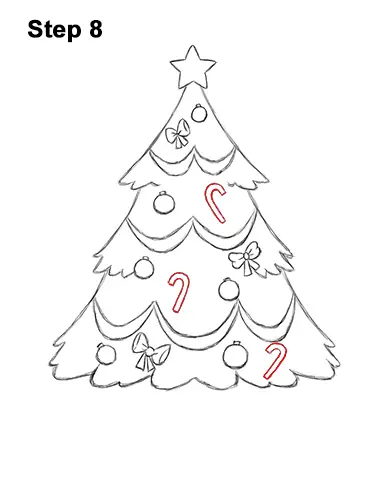 Step 8: If you have empty space left on your Christmas tree, add some candy canes! The candy canes should be similar in shape to a thick, upside-down letter J.
Step 9: Fill out the rest of your Christmas tree with smaller circles for more ornaments. Don't worry too much about the placement of these circles. Just add them randomly wherever you have space. You can also skip this step if your tree is getting too crowded.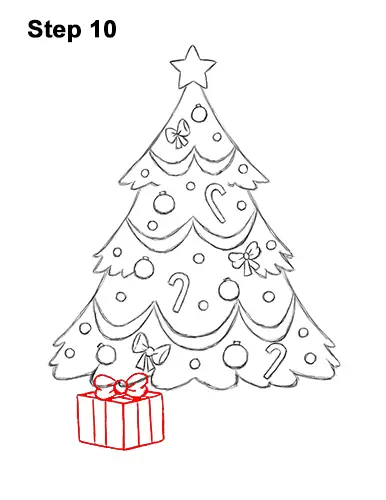 Step 10: Add a Christmas gift under the tree, on the left side, by first drawing three short, vertical lines. The line in the middle should be slightly lower. Connect the lines at the bottom and top. Finish drawing the gift box by adding two more lines at the top. Add a ribbon at the top using curved lines. It's okay to overlap the lines for the box and tree. Draw a few straight lines on the sides of the gift box for the ribbon.