Page 3 of 3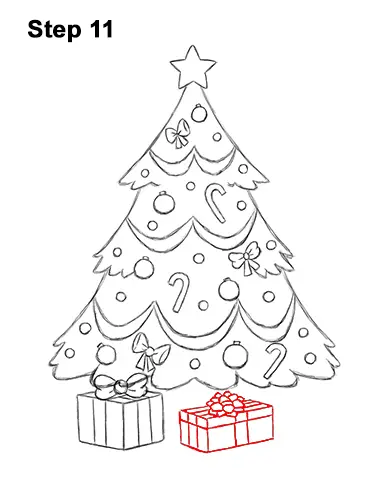 Step 11: Draw another Christmas gift under the tree, near the middle, using the same technique. This time however, make the beginning vertical lines shorter and space them out more to create a longer box. Add some lines near the top to create a lid. Draw a flower-like shape at the top for a bow. Draw a few more vertical lines on the sides of the box for ribbon.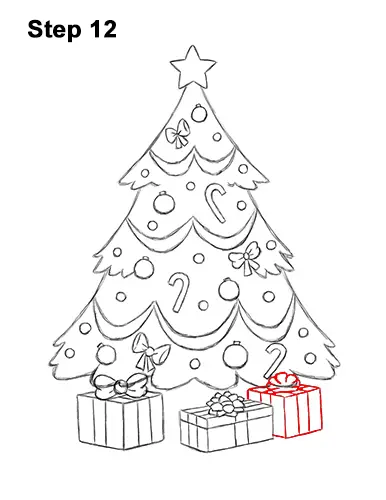 Step 12: Add another gift under the tree on the right side the same way. This gift is behind the gift in the middle, so don't overlap those lines. If you'd like, continue to add more Christmas gifts behind the other gifts.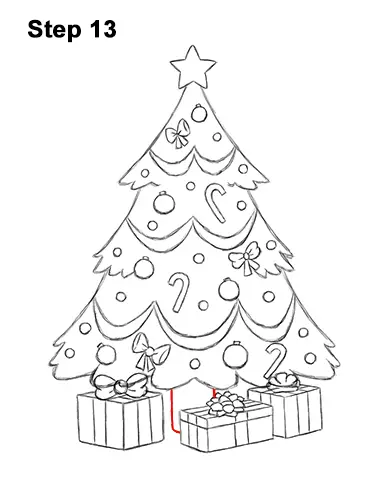 Step 13: If you have space under the Christmas tree, in the middle, draw the trunk using a couple of lines.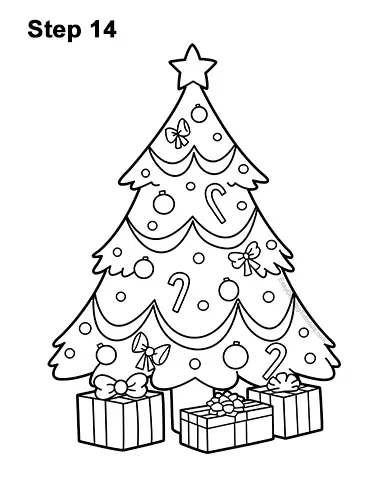 Step 14: Using a pen or marker, carefully go over the lines to make your drawing permanent. When you ink the bottom part of the tree, don't overlap the lines for the gifts and bows. After inking, get rid of every pencil mark with an eraser.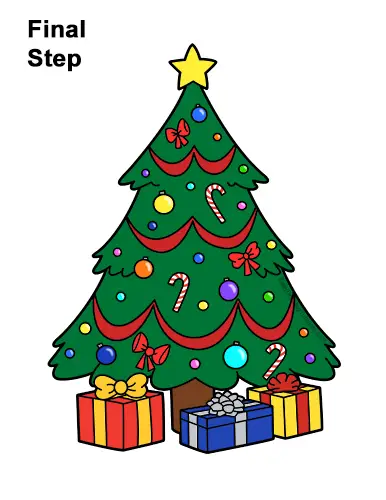 Final Step: Color your Christmas tree drawing using color pencils, markers or crayons! Use yellow for the star and red for the ribbon. Use different colors to color the round ornaments. Leave a tiny section on the side of each ornament blank to represent shine. You can also color the Christmas tree's ornaments a single color depending on what you want your tree to look like. Use red to color the bows and to add stripes to the candy canes.
Use green to color the tree. Be careful to not overlap the decorations as you color the tree. Color lightly at first, and then gradually build up to the darker color that you like. Finally, color the Christmas gifts any way you want! I used red-orange with yellow ribbon on the first one. The second one is blue with gray ribbon, and the third one is yellow with red ribbon. Use brown for the trunk. Don't forget to pause the video to draw your Christmas tree at your own pace!
Thanks for visiting! Subscribe to the EasyDrawingTutorials YouTube Channel for a new tutorial every Sunday.

To learn how to draw animals, visit How2DrawAnimals.com.
RELATED TUTORIALS