Page 6 of 6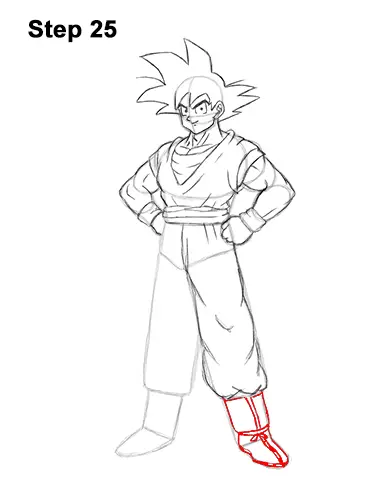 Step 25: Darken the outer edges of the guide at the bottom to create the shape of Goku's boot. Inside the shape, draw a series of lines for the boot's design and for the bit of rope across the middle that tightens the boot.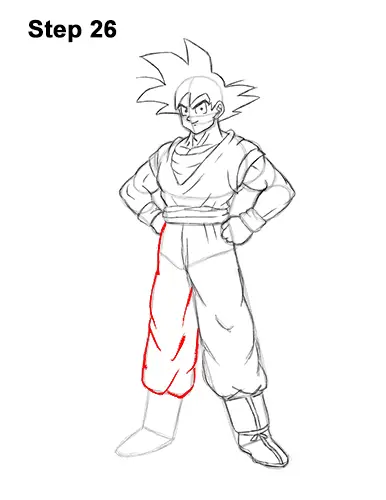 Step 26: Use the rectangular shape on the left as a guide to draw Goku's other pant leg the same way. Darken the outer edges but make the lines curvier for the wrinkles on the cloth of this Dragon Ball Z character's clothing.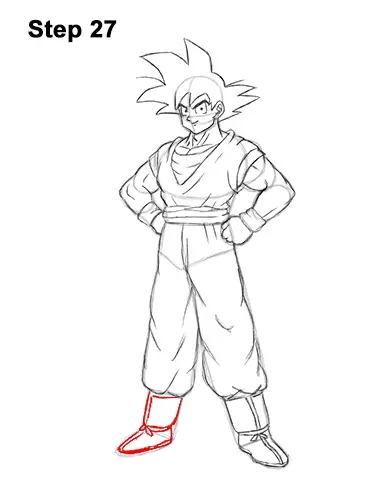 Step 27: Darken the outer edges of the guides at the bottom to create Goku's other boot. Like before, add a few lines inside for the boot's detail and rope.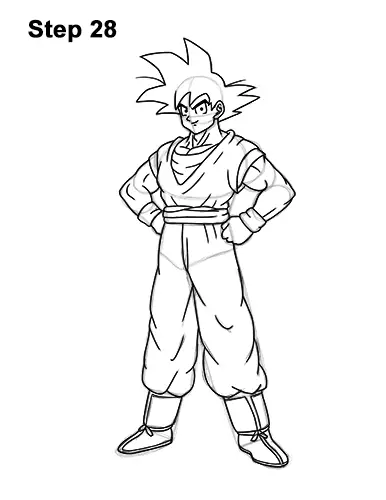 Step 28: For a more finished-looking Goku from Dragon Ball Z, carefully go over the final sketch lines with a pen or marker.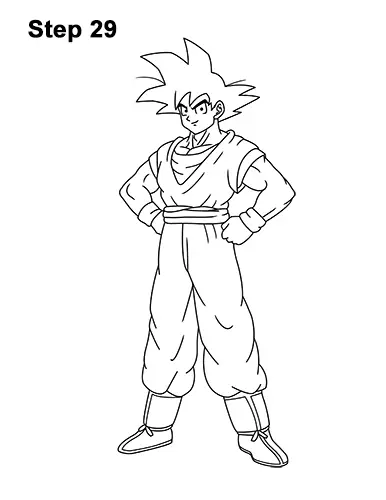 Step 29: After you're finished inking Goku, get rid of every pencil mark with an eraser.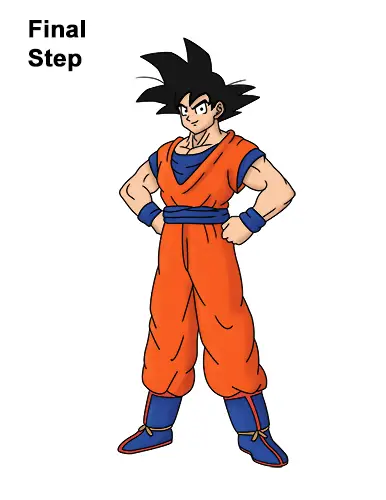 Final Step: Color your Goku drawing using color pencils, markers or crayons! Use black for Goku's hair and peach for his skin. If you don't have peach, use light brown or yellow-orange. Use orange for the main part of the gi. Use blue for the undershirt, wrist warmers, belt and main part of the boots. Color the detail on Goku's boots red and the rope on the boots light brown. Now you have a completed drawing of Goku from Dragon Ball Z!
Thanks for visiting! Subscribe to the EasyDrawingTutorials YouTube Channel for video drawing tutorials.

To learn how to draw animals, visit How2DrawAnimals.com.
RELATED TUTORIALS
sZ8cyvS956